Preserve the Season
The sweet glory of the California cantaloupe season is long-lived (super-long season thanks to California's ideal growing conditions), however all good things must come to an end. And although next year's season will surely be here before we know it, there are ways to hold us over from one season to the next without skipping a beat. From preserves, to endless jam recipes, infused spirits, and frozen cantaloupe melon balls, there are countless ways to capture the flavors of the season while its here to enjoy later on.
To help you make the most of the sweet California cantaloupe season, we have compiled a few ways to preserve it…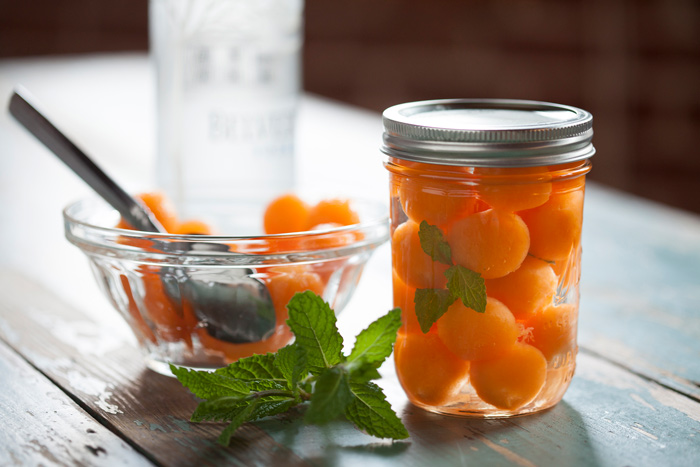 Squeeze every last drop of the unofficial official flavor of summertime with a few recipes showcasing cantaloupe living its best life.
Read about the happy union of two unexpected flavors with a toast to homemade cantaloupe and cucumber jam.
Do yourself a favor and make salted cantaloupe jam. This salty, sweet cantaloupe jam will put your go-to strawberry jam to shame. Salt both contrasts and deepens the honey-enhanced sweetness of cantaloupe for a jam you'll want to eat by the spoonful.
Combine cantaloupe with a bit of sugar and vanilla with this cantaloupe vanilla jam, it tastes like the best and most exotic Creamsicle you've ever had.
Capture the juicy flavor of cantaloupe with your own infused vodka for use in your favorite cocktails long after the season ends.
And to extend the season as long as humanly possible, ball as many melons as you can and freeze them for use as ice cubes that won't dilute your drink, toss them in smoothies for a boost of nutrition, or grab a handful for a refreshing [kid-friendly] snack.
•••
To continue making the most of the season, dig into the sweet stuff on Facebook, Twitter, Pinterest, and Instagram. Or sign up to have the sweet stuff delivered fresh to your inbox monthly!