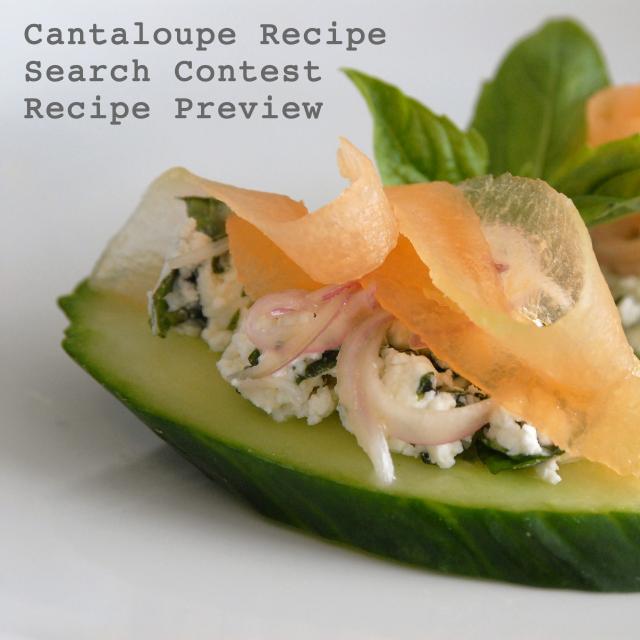 Cantaloupe Recipe Search Contest
The dust has settled from the holiday season and our cantaloupe recipe search contest has come to a close, which can only mean one thing: California cantaloupe season is just a few months away!
Countless recipes poured in to our cantaloupe recipe search contest from cantaloupe lovers the world over, and we could not be more excited.
We are making our way through the delicious cantaloupe recipe entries and sending a few over to the California cantaloupe kitchen for testing and to be professionally photographed. Next week we'll announce the winner of the contest. In the meantime, we wanted to give you a taste of what's in store by sharing a few of the top cantaloupe recipes we received. Have you ever heard of cantaloupe bread? It has a texture reminiscent of zucchini or pumpkin bread. Sounds delicious right?  Mary L.'s cantaloupe bread recipe has us dying to try it. Looking for a healthier appetizer or snack? Nicolette M.'s cantaloupe and cucumber recipe is just the ticket! Bookmark this page or print up these recipes to file away for safekeeping until California cantaloupes arrive at your local supermarket, ready to lend their sweet juiciness to your favorite recipes!
From cantaloupe smoothies and drinks, to cantaloupe salads, main courses, and desserts, a whole bunch of cantaloupe recipe inspiration is headed your way once the California cantaloupe season comes around. Thank you to all of you who entered our contest!
It's getting closer to cantaloupe season every day.  Look for a crop update soon as well as information about another contest we're cooking up.  For now, get inspired by the cantaloupe recipes below, and save them for late April or early May when California cantaloupe harvesting is expected to begin in the southern desert regions of the state.
Learn about the new crop and get information on upcoming contests by signing up for our CCAB e-newsletter.  And, if you don't already, "Like" us on Facebook or follow us on Twitter for current updates and cantaloupe inspiration!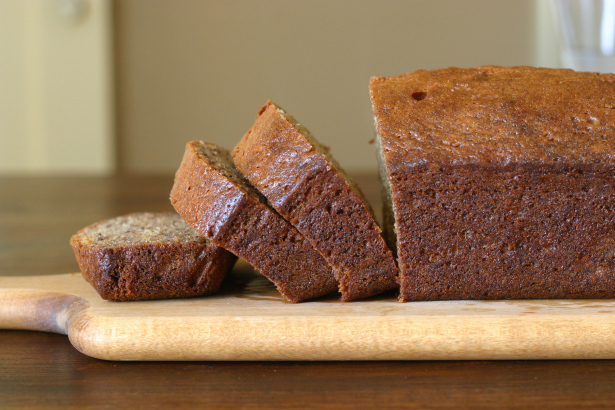 •••
Cantaloupe Nut Bread
Courtesy of Mary L.
Ingredients:
-2 cups fresh cantaloupe, cubed
-1/2 cup butter, softened
-1 cup granulated sugar
-2 eggs
-2 cups all-purpose flour
-1 teaspoon baking powder
-1 teaspoon baking soda
-1/2 teaspoon salt
-1 teaspoon pumpkin pie spice
-1 cup chopped pecans
Directions:
Place cantaloupe cubes in a blender. Puree until smooth.
Heat oven to 325 degrees F. In a medium mixing bowl, cream butter and sugar. Beat in eggs until well mixed. Stir in cantaloupe.
Combine all dry ingredients except nuts and gradually add to cantaloupe mixture. Fold in nuts.
Pour batter into a 9 x 5-inch greased and floured baking pan.
Bake at 325 degrees for 45 minutes. Remove from oven and allow to cool completely on a wire rack before slicing.
•••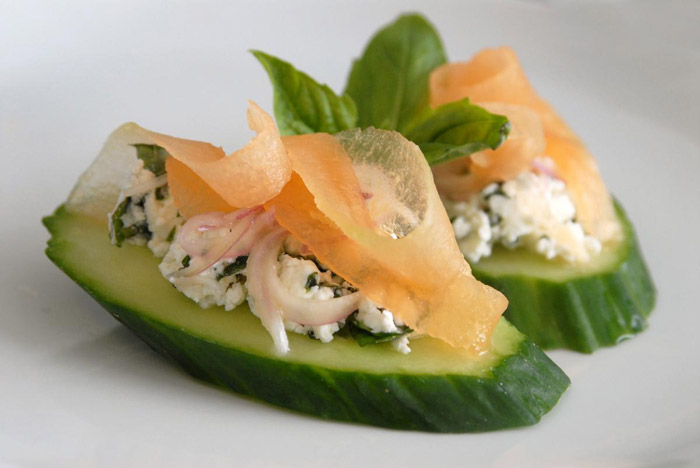 Cantaloupe Cucumber Appetizer
Courtesy of Nicolette M.
Ingredients:
-1 seedless cucumber
-1/4 of a cantaloupe
-5 oz. chèvre goat cheese
-2 Tablespoons basil, finely chopped
-1 shallot, finely sliced
-1 Tablespoon olive oil
-1 Tablespoon Meyer Lemon or lemon juice
-1 teaspoon honey salt
Directions:
Marinate sliced shallot ahead of time in oil, lemon, honey and a sprinkle of salt.
Combine chèvre and basil in a bowl. Set aside.
Slice cucumber diagonally about 1/8″ thick, sprinkle with salt. Slice cantaloupe into 1″ wedges.
With a vegetable peeler, peel slices from the inside of the cantaloupe wedges. If desired, slice peelings into narrower ribbons.
Assemble with cucumber on bottom, spoon chèvre mixture on top, then a small amount of marinated shallots, top with a large pinch of cantaloupe ribbons.
•••
For even more cantaloupe recipe inspiration, bookmark the California cantaloupe recipe page!