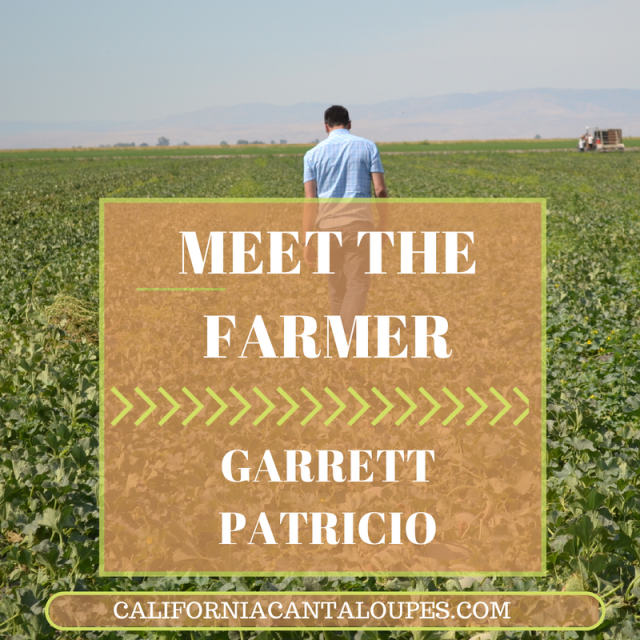 Meet the Farmer: Garrett Patricio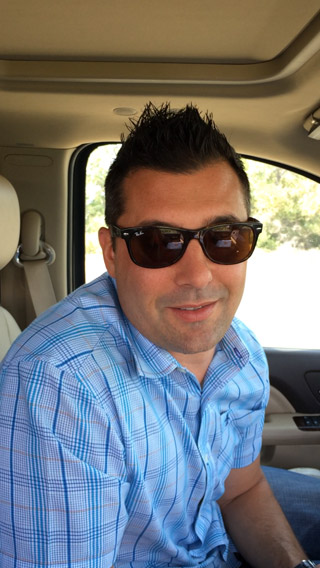 Garrett Patricio started his career as a certified public accountant and a lawyer in San Francisco and Fresno, but found his calling when he went to work for his family's business, Westside Produce.
Garrett was one of three young hires brought on in 2005 to help modernize the successful company, which was founded in the late 1940s and is based out of Firebaugh, Calif. Garrett's extensive background — he received an undergraduate degree in accounting from the University of San Diego, a law degree from Santa Clara University, and worked for the international accounting firm of PricewaterhouseCoopers — has helped the company as it adjusts to the rapidly changing demands of the produce business. Garrett is responsible for operations at Westside Produce and handles the company's legal matters.
Westside Produce grows traditional Western Shipper cantaloupe varieties. But the variety is one of the last traditional things about the company.
"How we approach safety has completely changed," Garrett says. "Before 2005, we primarily focused on OSHA (Occupational Health and Safety Administration) laws, employment regulations, and delivering a great product. Now, with new food safety regulations, we also have to be diligent about everything from employee health and hygiene to equipment and facility sanitation and preventative maintenance."
Garrett says. On average, 18 crews, made up of 20 people each, harvest 400 to 500 acres of cantaloupes per day for Westside Produce and 100 percent are packed in the field.
"California is the perfect place to grow cantaloupes. We have a dry, arid growing region with minimal rain," he says. "That means we have minimal disease pressure and are tremendously low-risk. Not to mention, we have spent 20 years conducting research to improve growing practices, all to benefit the health and safety of the product we deliver to consumers."
The result, Garrett says, is that California cantaloupes are the "safest in the world."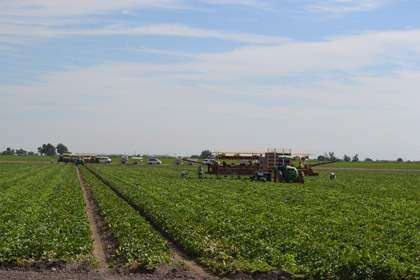 Westside Produce participates in a mandatory food safety program, which is unique to the produce industry. "The California Cantaloupe Board program is different from other programs not just because it is mandatory, but because audits are conducted by government inspectors through the California Department of Food and Agriculture and the United States Department of Agriculture. This distinction makes it completely unbiased, transparent, and ethical."
But that's not the extent of the company's sustainability practices. Westside Produce eliminated wax in it's corrugated cartons about 5 years ago and began testing recycled containers with supermarket chains Kroger, H-E-B, and Loblaws in Canada. Now, Westside Produce packs 5-10% of its product in reusable packing containers, or RPCs, which eliminate internal waste streams and extraneous energy consumption.
"Whether RPCs are the next great packaging idea or merely a fad, we're committed to workable environmental management systems and supply chain efficiencies," Garrett says. "It's part of the reason we've gone solar and dedicated five acres to a megawatt solar project. Innovation will shape our future and allow us to stay competitive."
Speaking of the future, Garrett — who lives in Fresno with his wife and young family — isn't sure yet whether his children will take an interest in the family business.
"Of course, we'll expose our kids to cantaloupes, like we were when we were growing up," he says. "But they'll make their own decisions and hopefully create their own opportunities!"
CLICK HERE To Watch A Video of Garrett Patricio Talking About Cantaloupes!