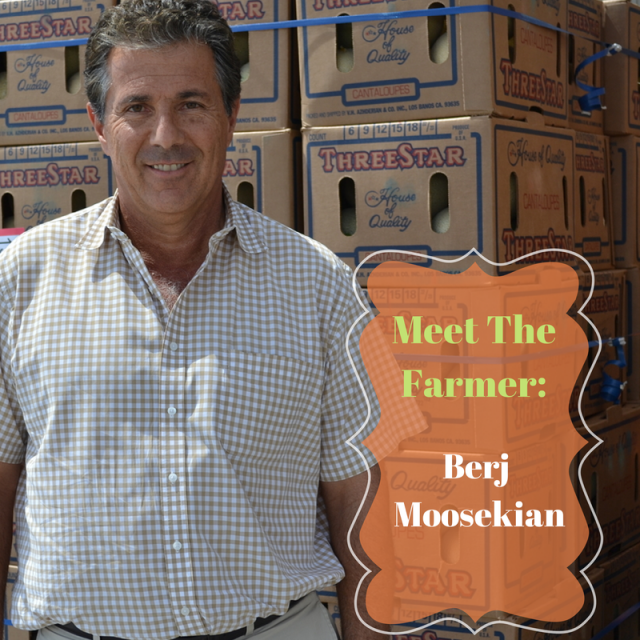 Meet The Farmer: Berj Moosekian
Berj Moosekian followed his family into the California cantaloupe business. Since 1915, V.H. Azhderian & Company has been growing and shipping from California's the San Joaquin Valley — but as Berj tells it, the story spans more than 100 years and two countries.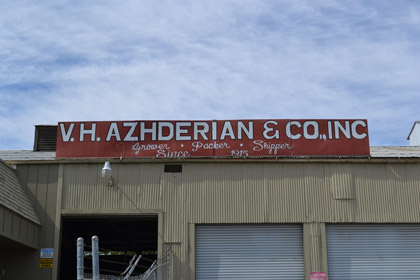 Berj's maternal grandfather — for whom the company is named — went to work in 1905 for the Arakelian brothers farming and seling produce in Holtville in southern California's Imperial Valley. After 10 years, he struck out on his own and settled in Turlock, CA where generations of his family have lived since. V.H. Azhderian & Company now operates in central California towns of Dos Palos, Los Banos, and Firebaugh.
Berj grew up helping at the farm and started working in the packing shed when he was 10 years old. Even then, he knew it was the way of life for him. He liked being on the ranch and out in the fields, and he thrived on the hustle and bustle of the packing shed.
Still, his off-the-field education came first. After graduating from Turlock High School, he earned his bachelor's degree in economics from UC Davis and then his juris doctorate from the University of Pacific McGeorge School of Law. He had no intention of practicing law forever, he says, and kept part-time legal jobs while helping to run the ranch.
"I loved growing a product," he says. "Making it special and good, then selling it; I especially loved to see the boxes stacked in the cold room and then to receive compliments from customers on the great taste."
His experiences on the farm had him hooked, and he took over as Chief Executive Officer of his family's business in 1997. Much has changed since then, including
the ongoing drought, but some things are still the same. Berj's family members were pioneers field packing (cantaloupe) back in the 1970s, a practice that has since become widespread among California cantaloupe farmers.
"Our cantaloupes are entirely field packed," Berj says. "It's more efficient for us."
Berj says cantaloupes are great during a drought cycle because they "aren't water guzzlers," but the competition for water in California this year has been fierce nonetheless. It's been an extremely challenging business environment, he says, and it has led to some tough choices.
"When we're finished harvesting a field we need to make the decision if we're going to invest in drip technology to allow plenty of time for drip installation," he says. "However, we don't really want to make that decision now, because without a rainy winter the chances of even being able to use drip is a gamble."
For Berj, keeping meticulous records is an everyday part of doing business. About 10 percent of their crop is organic, and the process to achieve and maintain organic certification is intense. Everything is documented, not only for organic certification, but also for food safety reasons.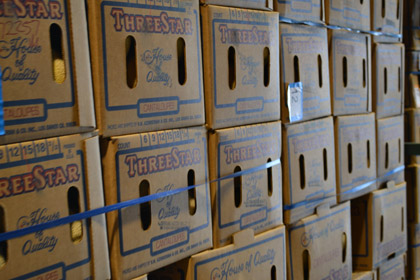 "As members of the California Cantaloupe Advisory Board's mandatory food safety program, we have a 156-checkpoint audit to comply with food safety protocols," he says. "We make sure every melon is clean, and we have a third-party consultant come in to train our works and supervisors to ensure they know and follow the required food safety practice in our operation,'" he says.
The company's commitment to food safety is paramount, Berj says. It starts with the climate. "We grow the best melons because of our ideal desert conditions," and he says "the climate is a natural barrier to pathogens."
But Berj and his team are committed to taking extra steps to protect consumers.
"The industry knows the stakes are high, and it's our job to grow, pack, and ship a safe product. Our top priority is to utilize the research that has been conducted for decades and put those lessons into practice. We're focused on providing a super product."
And with those high standards, we wouldn't be surprised to see V.H. Azhderian & Company make it another 100 years.