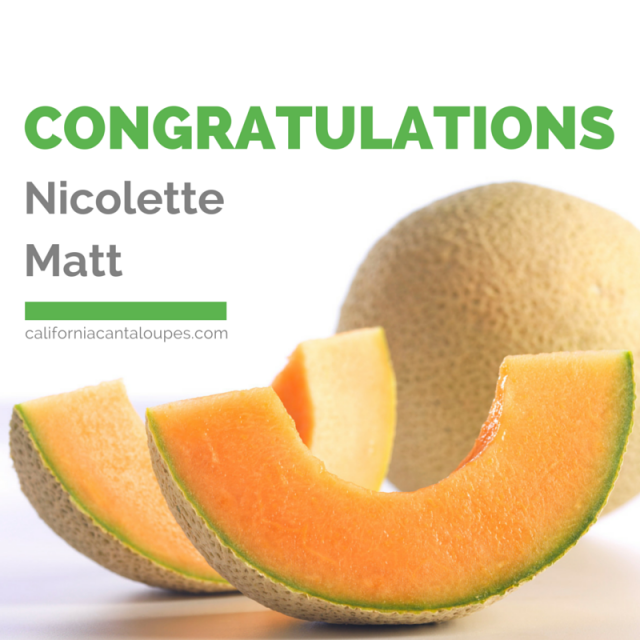 Cantaloupe Recipe Search Contest Winner
We want to wish a big congratulations to Nicolette Matt for winning our cantaloupe recipe search contest! Nicolette contributed her cantaloupe cucumber appetizer recipe, and we can't wait for California cantaloupe season to get here so we can try it!
As we prepare for the coming California cantaloupe harvest this spring, we will be taking Nicolette's recipe to the California Cantaloupe test kitchen – along with a few other recipes we received as part of this contest – where they will be tested, refined and then photographed for inclusion in our growing recipe database.
Our new winning recipe from Nicolette would be scrumptious served alongside some of the other delectable dishes you can already find on our website like baked Brie with cantaloupe or cantaloupe carpaccio bites. It would also be a tasty offering followed by a cantaloupe hazelnut salad or savory grilled cantaloupe skewers. We're so excited for California cantaloupe season, that we may end up serving these along with glasses filled with a version of this cantaloupe agua fresca to toast the juicy cantaloupe harvest in California beginning again in late April or early May.
•••
The California Cantaloupe Advisory Board has another cantaloupe contest coming up that will begin next month! This time, you will have the opportunity to win by taking a short quiz about California cantaloupe – don't worry, all the answers can be found on californiacantaloupes.com!
In the meantime, we encourage you to save, share, or print out these juicy cantaloupe recipes and be sure to try them come California cantaloupe season in late April or early May.
To make sure you don't miss any updates on the California cantaloupe crop or the upcoming contest, sign up for our CCAB e-newsletter. And if you don't already, "Like" us on Facebook or follow us on Twitter for current cantaloupe updates and inspiration!
•••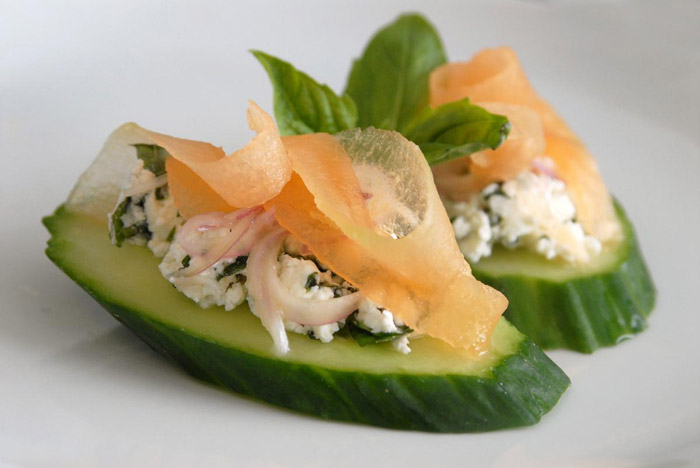 Cantaloupe Cucumber Appetizer
Courtesy of Nicolette Matt
Ingredients:
-1 seedless cucumber
-1/4 of a cantaloupe
-5 oz. chèvre goat cheese
-2 Tablespoons basil, finely chopped
-1 shallot, finely sliced
-1 Tablespoon olive oil
-1 Tablespoon Meyer Lemon or lemon juice
-1 teaspoon honey salt
Directions:
Marinate sliced shallot ahead of time in oil, lemon, honey and a sprinkle of salt.
Combine chèvre and basil in a bowl. Set aside.
Slice cucumber diagonally about 1/8″ thick, sprinkle with salt. Slice cantaloupe into 1″ wedges.
With a vegetable peeler, peel slices from the inside of the cantaloupe wedges. If desired, slice peelings into narrower ribbons.
Assemble with cucumber on bottom, spoon chèvre mixture on top, then a small amount of marinated shallots, top with a large pinch of cantaloupe ribbons.
•••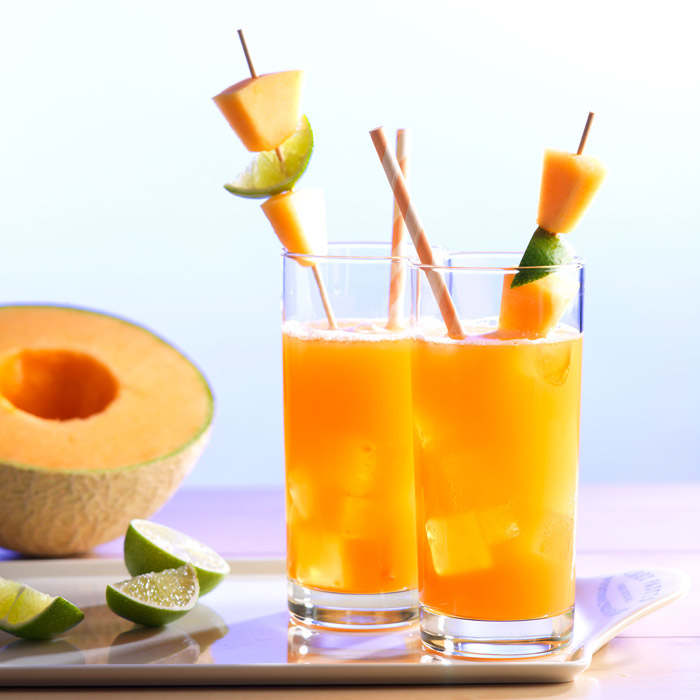 Cantaloupe Agua Fresca
This refreshing drink can be modified to suit grown-up tastes.
-1 small lime
-1 medium cantaloupe
-1 ½ cups water
-3 sprigs fresh mint
-pinch of salt
-750 ml bottle of sparkling water
Line a large strainer with cheesecloth and place over a large bowl
Wash lime and cut into quarters. Place in blender or food processor and pulse until small chunks. Add 1/3 of the melon chunks and ½ cup of the water and puree. Pour puree into cheesecloth allowing juice to weep into bowl beneath. Loosely tear mint and add to strainer. Continue to puree melon chunks and water in as many batches as necessary, depending on the size of your blender/food processor, and add to strainer.
Stir fruit mixture a bit to allow juice to flow to bowl below. When most of the liquid has drained, gather up cheesecloth to form a ball so that the last bit of juice can be squeezed out. Discard solids.
Stir in salt and refrigerate juice until chilled.
Place ice cubes in cups and fill half-way with chilled juice. Top off with sparkling water. Garnish with sprigs of mint, lime wedges, or cantaloupe slice. Alternatively, for grown up tastes, add a splash of vodka. Or, instead of mixing with sparkling water, pair with Prosecco for a modern twist on the classic Bellini.