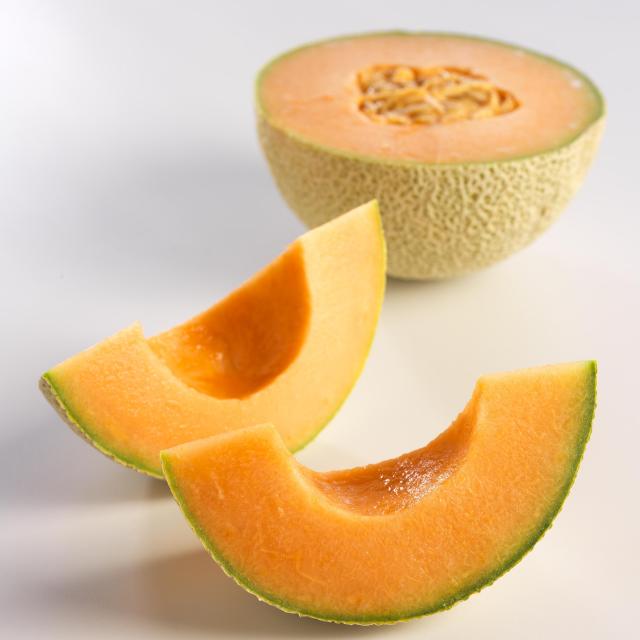 California Cantaloupe Fall Crop Update
The end of California cantaloupe season drawing near and the abundant supplies of juicy, sweet cantaloupe on store shelves are not what they were at the height of summer. However the season of our favorite fruit is not over quite yet and some California cantaloupes should continue to be in stores through the end of the month!
•••
In years past, it has been normal to have a relatively robust Fall cantaloupe season with supplies coming from the Southern desert area of California. Unfortunately, Fall California cantaloupe supplies have been lower in recent years due to weather conditions and the historic drought. That said, some of the folks who were producing cantaloupe in California earlier in the season are now harvesting in Arizona. One such company is Sandstone Melon Company. You can learn more about their current cantaloupe crop in this interesting article from AndNowUKnow.
By the end of November, all U.S. cantaloupe will be gone and grocery stores will begin receiving shipments of imported melons. We will then have to wait until spring of 2016 for California harvest to start up again.  So, for now it's time to say one last goodbye to California cantaloupe!
•••
On a bright note – though limited quantities of California cantaloupe remain, one way to preserve and savor its irresistible flavor is buy some last-of-the season cantaloupe now in stores and whip up some of this Cantaloupe Vanilla Bean Jam which has a flavor reminiscent of an exotic Creamsicle – what better topping for your toast, crêpes, or ice-cream?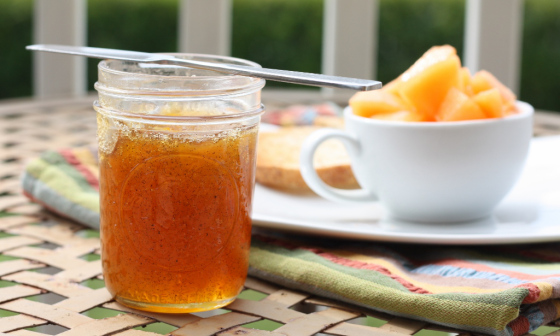 Ingredients
-3 cups chopped, peeled cantaloupe
-1 ½ cups sugar
-1 vanilla bean, split and scraped
-zest of 1 lemon
-1 Tablespoon lemon juice, freshly squeezed
-1 (3-ounce) packet liquid pectin
Directions
Combine the cantaloupe pulp, sugar, and vanilla bean seeds over high heat and cook for 8 to 10 minutes.
Add the lemon zest, lemon juice, and packet of liquid pectin. Return to a vigorous boil and cook for an additional 3 to 4 minutes, until bubbles look thick.
Remove the pot from heat and ladle jam into prepared jars. Wipe the rims, apply the lids and rings, and process in a boiling water bath for 10 minutes.
Photo: First Look then Cook
Recipe: Food in Jars by Marisa McClellan.
•••
And here's a fun idea – consider trying something new this year; carve your jack-o-lantern from a California cantaloupe! Stay tuned next week for a step-by-step California cantaloupe jack-o-lantern tutorial! In the meantime, we've compiled plenty of delicious Halloween inspiration for your festivities to guarantee a delightfully frightful night!
•••
Are you signed up to receive all the latest and greatest in the California cantaloupe world? If not, sign up for our CCAB e-newsletter and get the good stuff delivered right to your inbox!  Even better, if you don't already, "Like" us on Facebook or follow us on Twitter, Pinterest, and Instagram for current updates and cantaloupe inspiration!